Play MIDI File
MIDI Out:
This example requires Jazz-Plugin v.1.2 or later.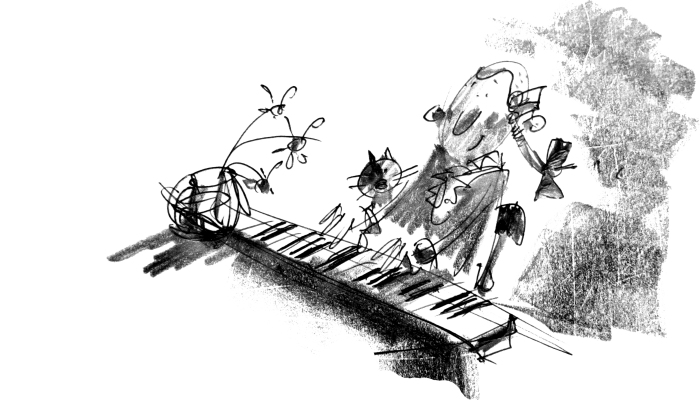 How it works
In this example we create a JZZ.MidiFile object from base64-encoded string, and request a JZZ.MidiFile.Player object from it.
Player's play() / stop() / pause() / resume() / loop() methods allow to start / stop / pause / resume / loop the playback.
Custom-made onPlayerEvent() function handles MIDI and playback events from the player.
Page source

<!DOCTYPE html>
<html>
<head>
<title>Play MIDI File</title>
<script src="JZZ.Midi.js"></script>
<script src="JZZ.MidiFile.js"></script>

<style type="text/css">
.hidden {
 visibility: hidden;
 width: 0px;
 height: 0px;
 margin: 0px;
 padding: 0px;
 border-style: none;
 border-width: 0px;
 max-width: 0px;
 max-height: 0px;
}
button {
 width:6em;
}
</style>
</head>

<body>
<h1>Play MIDI File</h1>

<object id="Jazz1" classid="CLSID:1ACE1618-1C7D-4561-AEE1-34842AA85E90" class="hidden">
  <object id="Jazz2" type="audio/x-jazz" class="hidden">
<p style="visibility:visible;">This page requires <a href=http://jazz-soft.net>Jazz-Plugin</a> ...</p>
  </object>
</object>
<p>MIDI Out: <select id=selectmidi onchange='changemidi();'></select></p>
<p>
<button id=play onmousedown='play();' disabled>Play</button>
<button id=pause onmousedown='pause();' disabled>Pause</button>
<button id=stop onmousedown='stop();' disabled>Stop</button>
<input type=checkbox id=loop onclick='onloop();'><label for=loop>Loop</label>
</p>

<script><!--
var Jazz = document.getElementById("Jazz1"); if(!Jazz || !Jazz.isJazz) Jazz = document.getElementById("Jazz2");
var player;
function onPlayerEvent(e){
 if(e.midi instanceof JZZ_.Midi){
  Jazz.MidiOutRaw(e.midi.array());
 }
 if(e.control=='play'){
  document.getElementById('play').disabled=true;
  document.getElementById('pause').disabled=false;
  document.getElementById('pause').innerHTML='Pause';
  document.getElementById('stop').disabled=false;
  document.getElementById('selectmidi').disabled=true;
 }
 else if(e.control=='stop'){
  for(var i=0;i<16;i++) Jazz.MidiOut(0xb0+i,123,0);
  document.getElementById('play').disabled=false;
  document.getElementById('pause').disabled=true;
  document.getElementById('pause').innerHTML='Pause';
  document.getElementById('stop').disabled=true;
  document.getElementById('selectmidi').disabled=false;
 }
 else if(e.control=='pause'){
  for(var i=0;i<16;i++) Jazz.MidiOut(0xb0+i,123,0);
  document.getElementById('pause').innerHTML='Resume';
 }
 else if(e.control=='resume'){
  document.getElementById('pause').innerHTML='Pause';
 }
}
function play(){ player.play();}
function stop(){ player.stop();}
function pause(){
 if(player.playing) player.pause();
 else player.resume();
}
function onloop(){
 player.loop(document.getElementById('loop').checked);
}
function changemidi(){
 Jazz.MidiOutOpen(select.options[select.selectedIndex].value);
}

var mozart='\
 TVRoZAAAAAYAAQALAPBNVHJrAAAAEwD/WAQEAhgIAP9RAwST4AD/LwBNVHJrAAAJCAD/AwZWaW9saW4A\
 wTAAsQd/AApeAOEAQACxAQACC38CQAACkUt4eIFLQACRSnh4gUpAAJFKeIFwgUpAAJFLeHiBS0AAkUp4\
 eIFKQACRSniBcIFKQACRS3h4gUtAAJFKeHiBSkAAkUp4gXCBSkAAkVJ4gXCBUkCBcJFSeHiBUkAAkVF4\
 eIFRQACRT3iBcIFPQACRT3h4gU9AAJFNeHiBTUAAkUt4gXCBS0AAkUt4eIFLQACRSnh4gUpAAJFIeIFw\
 gUhAAJFIeIFwgUhAgXCRSnh4gUpAAJFIeHiBSEAAkUh4gXCBSEAAkUp4eIFKQACRSHh4gUhAAJFIeIFw\
 gUhAAJFKeHiBSkAAkUh4eIFIQACRSHiBcIFIQACRUXiBcIFRQIFwkVF4eIFRQACRT3h4gU9AAJFOeIFw\
 gU5AAJFOeHiBTkAAkUt4eIFLQACRSniBcIFKQACRSnh4gUpAAJFIeHiBSEAAkUZ4gXCBRkAAkUZ4gXCB\
 RkCBcJFSeHiBUkAAkVF4eIFRQACRUXiBcIFRQACRVHiBcIFUQACRTniBcIFOQACRUXiBcIFRQACRT3iB\
 cIFPQACRSniBcIFKQIFwkVJ4eIFSQACRUXh4gVFAAJFReIFwgVFAAJFUeIFwgVRAAJFOeIFwgU5AAJFR\
 eIFwgVFAAJFPeIFwgU9AAJFSeIFwgVJAAJFReHiBUUAAkU94eIFPQACRTXh4gU1AAJFLeHiBS0AAkUp4\
 h0CBSkAAkUl4AEN4h0CBQ0AASUAAkUp4AEJ4gXCBQkAASkCBcJFGeABJeABDeINggUNAAElAAEZAAJFF\
 eABCeABKeIFwgUpAAEJAAEVAgXCRRngAQ3gASXiDYIFJQABDQABGQACRRXgAQngASniBcIFKQABCQABF\
 QINgkUt4eIFLQACRSnh4gUpAAJFKeIFwgUpAAJFLeHiBS0AAkUp4eIFKQACRSniBcIFKQACRS3h4gUtA\
 AJFKeHiBSkAAkUp4gXCBSkAAkVJ4gXCBUkCBcJFSeHiBUkAAkVF4eIFRQACRT3iBcIFPQACRT3h4gU9A\
 AJFNeHiBTUAAkUt4gXCBS0AAkUt4eIFLQACRSnh4gUpAAJFIeIFwgUhAAJFIeIFwgUhAgXCRTXh4gU1A\
 AJFLeHiBS0AAkUt4gXCBS0AAkU14eIFNQACRS3h4gUtAAJFLeIFwgUtAAJFNeHiBTUAAkUt4eIFLQACR\
 S3iBcIFLQACRVHiBcIFUQIFwkVR4eIFUQACRUnh4gVJAAJFReIFwgVFAAJFReHiBUUAAkU94eIFPQACR\
 TXiBcIFNQACRTXh4gU1AAJFLeHiBS0AAkUp4AFJ4h0CBUkAASkAAkU14hVCBTUB4kU14eIFNQACRS3h4\
 gUtAeJFPeHiBT0B4kVJ4eIFSQIJokUp4eIFKQHiRTXh4gU1AeJFSeHiBUkCBcJFKeHiBSkAAkUh4eIFI\
 QHiRS3h4gUtAeJFPeHiBT0B4kUh4eIFIQHiRRnh4gUZAeJFKeHiBSkB4kU14eIFNQIFwkU14eIFNQACR\
 THh4gUxAAJFNeHiBTUAAkU94eIFPQACRUXh4gVFAAJFSeHiBUkAAkVR4eIFUQACRVXh4gVVAAJFNeHiB\
 TUAAkUx4eIFMQACRTXh4gU1AAJFPeHiBT0AAkVF4eIFRQACRUnh4gVJAAJFUeHiBVEAAkVV4eIFVQACR\
 TXh4gU1AAJFMeHiBTEAAkU14eIFNQACRT3h4gU9AAJFReHiBUUAAkVJ4eIFSQACRVHh4gVRAAJFVeHiB\
 VUAAkUx4eIFMQACRTXiDYIFNQACRS3gAVHiBcIFUQACRUXiBcIFRQABLQACRSXgAVXiDYIFVQACRTHiB\
 cIFMQACRT3iBcIFPQABJQACRTXgASHiDYIFIQABNQACRVHh4gVRAAJFReHiBUUAAkVR4eIFUQACRUXh4\
 gVFAAJFJeABVeHiBVUAAkVJ4eIFSQACRVXh4gVVAAJFSeHiBUkAAkUx4eIFMQACRT3h4gU9AAJFMeHiB\
 TEAAkU94eIFPQABJQACRTXgASHiBcIFIQABNQIFwkUF4ADx4gXCBPEAAQUCJMJFNeIVQgU1AAJFMeIFw\
 gUxAAJFLeIVQgUtAAJFNeDyBTUAAkUt4PIFLQACRSng8gUpAAJFIeDyBSEAAkUZ4gXCBRkAAkUZ4AD54\
 eIE+QABGQHiRPngARniBcIFGQAA+QACRSHgAQ3iBcIFDQABIQACRQXgASniCaIFKQACRS3h4gUtAAJFI\
 eIFwgUhAAEFAgXCRT3gAQ3iFUIFDQABPQACRTngARXiBcIFFQABOQACRR3gATXiBcIFNQABHQACRTHgA\
 SHiBcIFIQABMQACRRXgAS3iBcIFLQABFQACRSngARniBcIFGQABKQACRSHgAQ3iBcIFDQABIQACRS3iD\
 YIFLQACRRXiBcIFFQACRRnh4gUZAAJFFeHiBRUAAkUh4eIFIQACRRnh4gUZAAJFKeHiBSkAAkUh4eIFI\
 QACRS3h4gUtAAJFKeHiBSkAAkU14hVCBTUAAkUx4gXCBTEAAkUt4hVCBS0AAkU14PIFNQACRS3g8gUtA\
 AJFKeDyBSkAAkUh4PIFIQACRRniBcIFGQACRRngAPnh4gT5AAEZAeJE+eABGeIFwgUZAAD5AAJFIeABD\
 eIFwgUNAAEhAAJFBeABKeIJogUpAAJFLeHiBS0AAkUh4gXCBSEAAQUCBcJFPeABDeIVQgUNAAE9AAJFO\
 eABFeIFwgUVAAE5AAJFHeABNeIFwgU1AAEdAAJFMeABIeIFwgUhAAExAAJFFeABLeIFwgUtAAEVAAJFK\
 eABGeIFwgUZAAEpAAJFIeABDeIFwgUNAAEhAAJFLeINggUtAAJFFeIFwgUVAAJFGeHiBRkAAkUp4PIFK\
 QDyRTXg8gU1APJFSeDyBUkA8kVF4eIFRQACRTXg8gU1APJFUeDyBVEA8kVF4PIFRQDyRUnh4gVJAAJFN\
 eDyBTUA8kVZ4PIFWQDyRUng8gVJAPJFReHiBUUAAkU14PIFNQDyRV3g8gVdAPJFUeDyBVEA8kVJ4gXCB\
 UkCBcJFGeAA+eHiBPkAARkAA/y8ATVRyawAACsQA/wMHU3RyaW5ncwDCMACyB1AAChgA4gBAALIBAAIL\
 fwJAAIFykjdQeII3QACSPlB4gj5AAJI6UHiCOkAAkj5QeII+QACSN1B4gjdAAJI+UHiCPkAAkjpQeII6\
 QACSPlB4gj5AAJI3UHiCN0AAkj5QeII+QACSOlB4gjpAAJI+UHiCPkAAkjdQeII3QACSPlB4gj5AAJI6\
 UHiCOkAAkj5QeII+QACSN1B4gjdAAJI+UHiCPkAAkjpQeII6QACSPlB4gj5AAJI3UHiCN0AAkj5QeII+\
 QACSOlB4gjpAAJI+UHiCPkAAkjdQeII3QACSP1B4gj9AAJI5UHiCOUAAkj9QeII/QACSN1B4gjdAAJI/\
 UHiCP0AAkjlQeII5QACSP1B4gj9AAJI3UHiCN0AAkj9QeII/QACSOVB4gjlAAJI/UHiCP0AAkjdQeII3\
 QACSP1B4gj9AAJI5UHiCOUAAkj9QeII/QACSNlB4gjZAAJI+UHiCPkAAkjxQeII8QACSPlB4gj5AAJI2\
 UHiCNkAAkj5QeII+QACSPFB4gjxAAJI+UHiCPkAAkjJQeIIyQACSPFB4gjxAAJI5UHiCOUAAkjxQeII8\
 QACSMlB4gjJAAJI8UHiCPEAAkjlQeII5QACSPFB4gjxAAJI3UHiCN0AAkj5QeII+QACSOlB4gjpAAJI+\
 UHiCPkAAkjdQeII3QACSPlB4gj5AAJI6UHiCOkAAkj5QeII+QACSMFB4gjBAAJI5UHiCOUAAkjZQeII2\
 QACSOVB4gjlAAJIwUHiCMEAAkjlQeII5QACSNlB4gjZAAJI5UHiCOUAAki5QeIIuQACSN1B4gjdAAJIy\
 UHiCMkAAkjdQeII3QACSLlB4gi5AAJI3UHiCN0AAkjJQeIIyQACSN1B4gjdAAJIwUHiCMEAAkjlQeII5\
 QACSNlB4gjZAAJI5UHiCOUAAkjBQeIIwQACSOVB4gjlAAJI2UHiCNkAAkjlQeII5QACSLlAAN1CHQII3\
 QAAuQACSNFAAOlCBcII6QACSNlCBcII2QACSN1CBcII3QACSOVCBcII5QAA0QACSM1AAOlCBcII6QACS\
 PFB4gjxAAJI6UHiCOkAAkjlQgXCCOUAAkjdQgXCCN0AAM0AAkjlQADJQgXCCMkAAOUCDYJIyUHiCMkAA\
 kjJQeIIyQACSMlCBcIIyQINgkjJQeIIyQACSMlB4gjJAAJIyUIFwgjJAgXCSOVAAPFCDYII8QAA5QACS\
 N1AAOlCDYII6QAA3QACSNlAAOVCDYII5QAA2QACSN1B4gjdAAJI+UHiCPkAAkjpQeII6QACSPlB4gj5A\
 AJI3UHiCN0AAkj5QeII+QACSOlB4gjpAAJI+UHiCPkAAkjdQeII3QACSPlB4gj5AAJI6UHiCOkAAkj5Q\
 eII+QACSN1B4gjdAAJI+UHiCPkAAkjpQeII6QACSPlB4gj5AAJIzUHiCM0AAkjxQeII8QACSN1B4gjdA\
 AJI8UHiCPEAAkjNQeIIzQACSPFB4gjxAAJI3UHiCN0AAkjxQeII8QACSMFB4gjBAAJI6UHiCOkAAkjdQ\
 eII3QACSOlB4gjpAAJIwUHiCMEAAkjpQeII6QACSN1B4gjdAAJI6UHiCOkAAkjVQeII1QACSPFB4gjxA\
 AJI5UHiCOUAAkjxQeII8QACSNVB4gjVAAJI8UHiCPEAAkjlQeII5QACSPFB4gjxAAJI1UHiCNUAAkj9Q\
 eII/QACSPFB4gjxAAJI/UHiCP0AAkjVQeII1QACSP1B4gj9AAJI8UHiCPEAAkj9QeII/QACSOlB4gjpA\
 AJI+UHiCPkAAkjpQeII6QACSPlB4gj5AAJI6UHiCOkAAkj5QeII+QACSOlB4gjpAAJI+UHiCPkAAkjlQ\
 eII5QACSPFB4gjxAAJI5UHiCOUAAkjxQeII8QACSOVB4gjlAAJI8UHiCPEAAkjlQeII5QACSPFB4gjxA\
 AJI3UHiCN0AAkjpQeII6QACSN1B4gjdAAJI6UHiCOkAAkjdQeII3QACSOlB4gjpAAJI3UHiCN0AAkjpQ\
 eII6QACSNVB4gjVAAJI6UHiCOkAAkjVQeII1QACSOlB4gjpAAJI1UHiCNUAAkjpQeII6QACSNVB4gjVA\
 AJI6UHiCOkAAkjNQeIIzQACSN1B4gjdAAJIzUHiCM0AAkjdQeII3QACSM1B4gjNAAJI3UHiCN0AAkjNQ\
 eIIzQACSN1B4gjdAAJIyUHiCMkAAkjVQeII1QACSMlB4gjJAAJI1UHiCNUAAkjJQeIIyQACSNVB4gjVA\
 AJIyUHiCMkAAkjVQeII1QACSOlAAMFAAN1CHQII3QAAwQAA6QACSN1AAMFAAOlCDYII6QAAwQAA3QACS\
 MVAAOlAAN1CDYII3QAA6QAAxQACSMFAAN1AAOlCDYII6QAA3QAAwQINgkjlQADVQeII1QAA5QACSNVAA\
 OVB4gjlAADVAAJI5UAA1UHiCNUAAOUAAkjlQADVQeII1QAA5QACSOVAANVB4gjVAADlAAJI1UAA5UHiC\
 OUAANUAAkjlQADVQeII1QAA5QACSOVAANVB4gjVAADlAAJI6UAA1UHiCNUAAOkAAkjpQADVQeII1QAA6\
 QACSOlAANVB4gjVAADpAAJI6UAA1UHiCNUAAOkAAkjpQADVQeII1QAA6QACSNVAAOlB4gjpAADVAAJI6\
 UAA1UHiCNUAAOkAAkjVQADpQeII6QAA1QACSOVAANVB4gjVAADlAAJI5UAA1UHiCNUAAOUAAkjlQADVQ\
 eII1QAA5QACSOVAANVB4gjVAADlAAJI5UAA1UHiCNUAAOUAAkjVQADlQeII5QAA1QACSOVAANVB4gjVA\
 ADlAAJI5UAA1UHiCNUAAOUAAkjpQADVQeII1QAA6QACSOlAANVB4gjVAADpAAJI6UAA1UHiCNUAAOkAA\
 kjpQADVQeII1QAA6QACSNVAAOlB4gjpAADVAAJI1UAA6UHiCOkAANUAAkjpQADVQeII1QAA6QACSOlAA\
 NVB4gjVAADpAAJI5UAA1UIFwgjVAADlAgXCSKVCBcIIpQIkwkj5QgXCCPkCDYJI8UIFwgjxAAJI5UAA1\
 UIFwgjVAADlAh0CSN1CBcII3QACSN1CBcII3QACSNFAAOlCBcII6QAA0QACSOlAANVB4gjVAADpAgXCS\
 PFB4gjxAAJI5UHiCOUCCaJIzUHiCM0CEWJIyUHiCMkB4kjdQgXCCN0AAkjBQgXCCMEAAkjVQgXCCNUAA\
 ki5QgXCCLkAAkjNQgXCCM0CBcJI1UAA5UIFwgjlAADVAgXCSPlAAOlCBcII6QAA+QIVQkj5QgXCCPkCD\
 YJI8UIFwgjxAAJI5UAA1UIFwgjVAADlAh0CSN1CBcII3QACSN1CBcII3QACSNFAAOlCBcII6QAA0QACS\
 OlAANVB4gjVAADpAgXCSPFB4gjxAAJI5UHiCOUCCaJIzUHiCM0CEWJIyUHiCMkB4kjdQgXCCN0AAkjBQ\
 gXCCMEAAkjVQgXCCNUAAki5QgXCCLkAAkjNQgXCCM0CBcJI1UAA5UIFwgjlAADVAgXCSPlAAOlCBcII6\
 QAA+QIFwkj9QADVQg2CCNUAAP0AAkj5QADpQgXCCOkAAPkCBcJI1UAA/UINggj9AADVAAJI+UAA6UIFw\
 gjpAAD5AgXCSLlAANVB4gjVAAC5AAP8vAE1UcmsAAAXnAP8DBEJhc3MAwysAswdaAAo/AOMAQACzAQAC\
 C38CQACBcpMrYniDK0B4ky5ieIMuQHiTK2J4gytAeJMuYniDLkB4kytieIMrQHiTLmJ4gy5AeJMrYniD\
 K0B4ky5ieIMuQHiTK2J4gytAeJMuYniDLkB4kytieIMrQHiTLmJ4gy5AeJMrYniDK0B4ky1ieIMtQHiT\
 K2J4gytAeJMtYniDLUB4kytieIMrQHiTLWJ4gy1AeJMrYniDK0B4ky1ieIMtQHiTKmJ4gypAeJMwYniD\
 MEB4kypieIMqQHiTMGJ4gzBAeJMmYniDJkB4ky1ieIMtQHiTJmJ4gyZAeJMtYniDLUB4kytieIMrQHiT\
 LmJ4gy5AeJMrYniDK0B4ky5ieIMuQHiTJGJ4gyRAAJMtYniDLUAAkypieIMqQACTLWJ4gy1AAJMkYniD\
 JEAAky1ieIMtQACTKmJ4gypAAJMtYniDLUAAkyJieIMiQACTK2J4gytAAJMmYniDJkAAkytieIMrQACT\
 ImJ4gyJAAJMrYniDK0AAkyZieIMmQACTK2J4gytAAJMkYniDJEAAky1ieIMtQACTKmJ4gypAAJMtYniD\
 LUAAkyRieIMkQACTLWJ4gy1AAJMqYniDKkAAky1ieIMtQACTImKHQIMiQACTKGKHQIMoQACTJ2KHQIMn\
 QACTJmKBcIMmQINgkyZieIMmQACTJmJ4gyZAAJMmYoFwgyZAg2CTJmJ4gyZAAJMmYniDJkAAkyZigXCD\
 JkCBcJMtYoNggy1AAJMrYoNggytAAJMqYoNggypAAJMrYniDK0B4ky5ieIMuQHiTK2J4gytAeJMuYniD\
 LkB4kytieIMrQHiTLmJ4gy5AeJMrYniDK0B4ky5ieIMuQHiTJ2J4gydAeJMrYniDK0B4kydieIMnQHiT\
 K2J4gytAeJMkYniDJEB4kytieIMrQHiTJGJ4gyRAeJMrYniDK0B4kylieIMpQHiTLWJ4gy1AeJMpYniD\
 KUB4ky1ieIMtQHiTKWJ4gylAeJMwYniDMEB4kylieIMpQHiTMGJ4gzBAeJMuYniDLkB4ky5ieIMuQHiT\
 LmJ4gy5AeJMuYniDLkB4ky1ieIMtQHiTLWJ4gy1AeJMtYniDLUB4ky1ieIMtQHiTK2J4gytAeJMrYniD\
 K0B4kytieIMrQHiTK2J4gytAeJMpYniDKUB4kylieIMpQHiTKWJ4gylAeJMpYniDKUB4kydieIMnQHiT\
 J2J4gydAeJMnYniDJ0B4kydieIMnQHiTJmJ4gyZAeJMmYniDJkB4kyZieIMmQHiTJmJ4gyZAeJMkYodA\
 gyRAAJMkYoNggyRAAJMlYoNggyVAAJMkYoNggyRAg2CTKWJ4gylAeJMpYniDKUB4kylieIMpQHiTKWJ4\
 gylAeJMpYniDKUB4kylieIMpQHiTKWJ4gylAeJMpYniDKUB4kylieIMpQHiTKWJ4gylAeJMpYniDKUB4\
 kylieIMpQHiTKWJ4gylAeJMpYniDKUB4kylieIMpQHiTKWJ4gylAeJM1YoFwgzVAgXCTKWKBcIMpQIkw\
 kzJihVCDMkAAkzBigXCDMEAAky1igXCDLUCHQJMrYniDK0B4kytigXCDK0AAkyhigXCDKEAAkylihVCD\
 KUCBcJMnYoVQgydAAJMmYoFwgyZAAJMrYoFwgytAAJMkYoFwgyRAAJMpYoFwgylAAJMiYoFwgyJAAJMn\
 YoFwgydAgXCTKWKBcIMpQIFwky5igXCDLkCFUJMyYoVQgzJAAJMwYoFwgzBAAJMtYoFwgy1Ah0CTK2J4\
 gytAeJMrYoFwgytAAJMoYoFwgyhAAJMpYoVQgylAgXCTJ2KFUIMnQACTJmKBcIMmQACTK2KBcIMrQACT\
 JGKBcIMkQACTKWKBcIMpQACTImKBcIMiQACTJ2KBcIMnQIFwkyligXCDKUCBcJMuYoFwgy5AgXCTKWKD\
 YIMpQACTLmKDYIMuQACTKWKDYIMpQACTLmKBcIMuQIFwkyJieIMiQAD/LwBNVHJrAAADaAD/AwVCcmFz\
 cwDEPAC0B1AACkoA5ABAALQBAAILfwJAAIFylDpOADdOAD5Oh0CEPkAAN0AAOkAAlDdOADpOAD5Oh0CE\
 PkAAOkAAN0AAlDdOADpOAD5Oh0CEPkAAOkAAN0AAlD9OADxOADdOgXCEN0AAPEAAP0AAlDlOAD9OADxO\
 gXCEPEAAP0AAOUAAlDdOADxOAD9OgXCEP0AAPEAAN0AAlD9OADxOADlOgXCEOUAAPEAAP0AAlD9OADdO\
 ADxOgXCEPEAAN0AAP0AAlD9OADlOgXCEOUAAP0AAlD9OADdOgXCEN0AAP0AAlDlOAD9OgXCEP0AAOUAA\
 lDZOAD5OADxOh0CEPEAAPkAANkAAlDxOADJOADlOh0CEOUAAMkAAPEAAlDpOADdOAD5Oh0CEPkAAN0AA\
 OkAAlDBOADlOADZOh0CENkAAOUAAMEAAlDJOADpOADdOh0CEN0AAOkAAMkAAlDZOADlOADBOh0CEMEAA\
 OUAANkAAlC5OADdOh0CEN0AALkAAlDROh0CENEAAlDNOh0CEM0AAlDJOhVCEMkAAlDJOAD5OeIQ+QAAy\
 QACUPk4AMk54hDJAAD5AAJQyTgA+ToFwhD5AADJAg2CUPk4AMk54hDJAAD5AAJQ+TgAyTniEMkAAPkAA\
 lD5OADJOgXCEMkAAPkCDYJQ/TniEP0AAlD5OeIQ+QACUPk6BcIQ+QACUP054hD9AAJQ+TniEPkAAlD5O\
 eIQ+QHiUP054hD9AAJQ+TniEPkAAlD5OAEZOAENOh0CEQ0AARkAAPkAAlDpOAD5OAENOh0CEQ0AAPkAA\
 OkAAlDdOADxOAD9Oh0CEP0AAPEAAN0AAlDpOADBOADdOh0CEN0AAMEAAOkAAlDVOADlOADxOh0CEPEAA\
 OUAANUAAlDVOAD9OADxOh0CEPEAAP0AANUAAlDpOAD5Oh0CEPkAAOkAAlDlOADxOh0CEPEAAOUAAlDdO\
 ADpOh0CEOkAAN0AAlDpOADVOh0CENUAAOkAAlDNOADdOh0CEN0AAM0AAlDJOADVOh0CENUAAMkAAlDBO\
 ADpOADdOh0CEN0AAOkAAMEAAlDdOADpOADBOg2CEMEAAOkAAN0AAlDFOADpOADdOg2CEN0AAOkAAMUAA\
 lDdOADpOADBOg2CEMEAAOkAAN0AA/y8ATVRyawAAAz4A/wMNRW5nbGlzaCBIb3JucwDFRQC1B2QACjYA\
 5QBAALUBAAILfwJAANtylTpkgTSFOkA8lTZkgTSFNkA8lTdkgTSFN0A8lTlkgTSFOUA8lTpkgTSFOkA8\
 lTxkWoU8QB6VOmRahTpAHpU5ZIE0hTlAPJU3ZIE0hTdAPJU5ZIE0hTlAhByVPmRahT5AHpU+ZFqFPkAe\
 lT5kWoU+QIR2lT5kWoU+QB6VPmRahT5AHpU+ZFqFPkCDBpU8ZIE0hTxAgiyVOmSBNIU6QIIslTlkgTSF\
 OUCBn2yVTWSFUIVNQACVTGSBcIVMQACVS2SFUIVLQACVTWQ8hU1AAJVLZDyFS0AAlUpkPIVKQACVSGQ8\
 hUhAAJVGZIFwhUZAAJVGZHiFRkB4lUZkgXCFRkAAlUhkgXCFSEAAlUpkgmiFSkAAlUtkeIVLQACVSGSB\
 cIVIQIFwlU9khVCFT0AAlU5kgXCFTkAAlU1kgXCFTUAAlUxkgXCFTEAAlUtkgXCFS0AAlUpkgXCFSkAA\
 lUhkgXCFSEAAlUtkg2CFS0AAlUVkgXCFRUAAlUZkeIVGQACVRWR4hUVAAJVIZHiFSEAAlUZkeIVGQACV\
 SmR4hUpAAJVIZHiFSEAAlUtkeIVLQACVSmR4hUpAAJVNZIVQhU1AAJVMZIFwhUxAAJVLZIVQhUtAAJVN\
 ZDyFTUAAlUtkPIVLQACVSmQ8hUpAAJVIZDyFSEAAlUZkgXCFRkAAlUZkeIVGQHiVRmSBcIVGQACVSGSB\
 cIVIQACVSmSCaIVKQACVS2R4hUtAAJVIZIFwhUhAgXCVT2SFUIVPQACVTmSBcIVOQACVTWSBcIVNQACV\
 TGSBcIVMQACVS2SBcIVLQACVSmSBcIVKQACVSGSBcIVIQACVS2SDYIVLQACVRWSBcIVFQACVRmR4hUZA\
 AJVKZDyFSkA8lU1kPIVNQDyVUmQ8hVJAPJVRZHiFUUAAlU1kPIVNQDyVVGQ8hVRAPJVRZDyFUUA8lVJk\
 eIVSQACVTWQ8hU1APJVWZDyFVkA8lVJkPIVSQDyVUWR4hVFAAJVNZDyFTUA8lVdkPIVXQDyVVGQ8hVRA\
 PJVSZIFwhVJAgXCVRmR4hUZAAP8vAE1UcmsAAAkIAP8DBlZpb2xpbgDMMAC8B38ACj8A7ABAArwBAAIL\
 fwJAAACcS394jEtAAJxKf3iMSkAAnEp/gXCMSkAAnEt/eIxLQACcSn94jEpAAJxKf4FwjEpAAJxLf3iM\
 S0AAnEp/eIxKQACcSn+BcIxKQACcUn+BcIxSQIFwnFJ/eIxSQACcUX94jFFAAJxPf4FwjE9AAJxPf3iM\
 T0AAnE1/eIxNQACcS3+BcIxLQACcS394jEtAAJxKf3iMSkAAnEh/gXCMSEAAnEh/gXCMSECBcJxKf3iM\
 SkAAnEh/eIxIQACcSH+BcIxIQACcSn94jEpAAJxIf3iMSEAAnEh/gXCMSEAAnEp/eIxKQACcSH94jEhA\
 AJxIf4FwjEhAAJxRf4FwjFFAgXCcUX94jFFAAJxPf3iMT0AAnE5/gXCMTkAAnE5/eIxOQACcS394jEtA\
 AJxKf4FwjEpAAJxKf3iMSkAAnEh/eIxIQACcRn+BcIxGQACcRn+BcIxGQIFwnFJ/eIxSQACcUX94jFFA\
 AJxRf4FwjFFAAJxUf4FwjFRAAJxOf4FwjE5AAJxRf4FwjFFAAJxPf4FwjE9AAJxKf4FwjEpAgXCcUn94\
 jFJAAJxRf3iMUUAAnFF/gXCMUUAAnFR/gXCMVEAAnE5/gXCMTkAAnFF/gXCMUUAAnE9/gXCMT0AAnFJ/\
 gXCMUkAAnFF/eIxRQACcT394jE9AAJxNf3iMTUAAnEt/eIxLQACcSn+HQIxKQACcSX8AQ3+HQIxDQABJ\
 QACcSn8AQn+BcIxCQABKQIFwnEZ/AEl/AEN/g2CMQ0AASUAARkAAnEV/AEJ/AEp/gXCMSkAAQkAARUCB\
 cJxGfwBDfwBJf4NgjElAAENAAEZAAJxFfwBCfwBKf4FwjEpAAEJAAEVAg2CcS394jEtAAJxKf3iMSkAA\
 nEp/gXCMSkAAnEt/eIxLQACcSn94jEpAAJxKf4FwjEpAAJxLf3iMS0AAnEp/eIxKQACcSn+BcIxKQACc\
 Un+BcIxSQIFwnFJ/eIxSQACcUX94jFFAAJxPf4FwjE9AAJxPf3iMT0AAnE1/eIxNQACcS3+BcIxLQACc\
 S394jEtAAJxKf3iMSkAAnEh/gXCMSEAAnEh/gXCMSECBcJxNf3iMTUAAnEt/eIxLQACcS3+BcIxLQACc\
 TX94jE1AAJxLf3iMS0AAnEt/gXCMS0AAnE1/eIxNQACcS394jEtAAJxLf4FwjEtAAJxUf4FwjFRAgXCc\
 VH94jFRAAJxSf3iMUkAAnFF/gXCMUUAAnFF/eIxRQACcT394jE9AAJxNf4FwjE1AAJxNf3iMTUAAnEt/\
 eIxLQACcSn8AUn+HQIxSQABKQACcTX+FUIxNQHicTX94jE1AAJxLf3iMS0B4nE9/eIxPQHicUn94jFJA\
 gmicSn94jEpAeJxNf3iMTUB4nFJ/eIxSQIFwnEp/eIxKQACcSH94jEhAeJxLf3iMS0B4nE9/eIxPQHic\
 SH94jEhAeJxGf3iMRkB4nEp/eIxKQHicTX94jE1AgXCcTX94jE1AAJxMf3iMTEAAnE1/eIxNQACcT394\
 jE9AAJxRf3iMUUAAnFJ/eIxSQACcVH94jFRAAJxVf3iMVUAAnE1/eIxNQACcTH94jExAAJxNf3iMTUAA\
 nE9/eIxPQACcUX94jFFAAJxSf3iMUkAAnFR/eIxUQACcVX94jFVAAJxNf3iMTUAAnEx/eIxMQACcTX94\
 jE1AAJxPf3iMT0AAnFF/eIxRQACcUn94jFJAAJxUf3iMVEAAnFV/eIxVQACcTH94jExAAJxNf4NgjE1A\
 AJxLfwBUf4FwjFRAAJxRf4FwjFFAAEtAAJxJfwBVf4NgjFVAAJxMf4FwjExAAJxPf4FwjE9AAElAAJxN\
 fwBIf4NgjEhAAE1AAJxUf3iMVEAAnFF/eIxRQACcVH94jFRAAJxRf3iMUUAAnEl/AFV/eIxVQACcUn94\
 jFJAAJxVf3iMVUAAnFJ/eIxSQACcTH94jExAAJxPf3iMT0AAnEx/eIxMQACcT394jE9AAElAAJxNfwBI\
 f4FwjEhAAE1AgXCcQX8APH+BcIw8QABBQIkwnE1/hVCMTUAAnEx/gXCMTEAAnEt/hVCMS0AAnE1/PIxN\
 QACcS388jEtAAJxKfzyMSkAAnEh/PIxIQACcRn+BcIxGQACcRn8APn94jD5AAEZAeJw+fwBGf4FwjEZA\
 AD5AAJxIfwBDf4FwjENAAEhAAJxBfwBKf4JojEpAAJxLf3iMS0AAnEh/gXCMSEAAQUCBcJxPfwBDf4VQ\
 jENAAE9AAJxOfwBFf4FwjEVAAE5AAJxHfwBNf4FwjE1AAEdAAJxMfwBIf4FwjEhAAExAAJxFfwBLf4Fw\
 jEtAAEVAAJxKfwBGf4FwjEZAAEpAAJxIfwBDf4FwjENAAEhAAJxLf4NgjEtAAJxFf4FwjEVAAJxGf3iM\
 RkAAnEV/eIxFQACcSH94jEhAAJxGf3iMRkAAnEp/eIxKQACcSH94jEhAAJxLf3iMS0AAnEp/eIxKQACc\
 TX+FUIxNQACcTH+BcIxMQACcS3+FUIxLQACcTX88jE1AAJxLfzyMS0AAnEp/PIxKQACcSH88jEhAAJxG\
 f4FwjEZAAJxGfwA+f3iMPkAARkB4nD5/AEZ/gXCMRkAAPkAAnEh/AEN/gXCMQ0AASEAAnEF/AEp/gmiM\
 SkAAnEt/eIxLQACcSH+BcIxIQABBQIFwnE9/AEN/hVCMQ0AAT0AAnE5/AEV/gXCMRUAATkAAnEd/AE1/\
 gXCMTUAAR0AAnEx/AEh/gXCMSEAATEAAnEV/AEt/gXCMS0AARUAAnEp/AEZ/gXCMRkAASkAAnEh/AEN/\
 gXCMQ0AASEAAnEt/g2CMS0AAnEV/gXCMRUAAnEZ/eIxGQACcSn88jEpAPJxNfzyMTUA8nFJ/PIxSQDyc\
 UX94jFFAAJxNfzyMTUA8nFR/PIxUQDycUX88jFFAPJxSf3iMUkAAnE1/PIxNQDycVn88jFZAPJxSfzyM\
 UkA8nFF/eIxRQACcTX88jE1APJxXfzyMV0A8nFR/PIxUQDycUn+BcIxSQIFwnEZ/AD5/eIw+QABGQAD/\
 LwBNVHJrAAAKmwD/AwdTdHJpbmdzALwHfwAKP4F2nDdQeIw3QACcPlB4jD5AAJw6UHiMOkAAnD5QeIw+\
 QACcN1B4jDdAAJw+UHiMPkAAnDpQeIw6QACcPlB4jD5AAJw3UHiMN0AAnD5QeIw+QACcOlB4jDpAAJw+\
 UHiMPkAAnDdQeIw3QACcPlB4jD5AAJw6UHiMOkAAnD5QeIw+QACcN1B4jDdAAJw+UHiMPkAAnDpQeIw6\
 QACcPlB4jD5AAJw3UHiMN0AAnD5QeIw+QACcOlB4jDpAAJw+UHiMPkAAnDdQeIw3QACcP1B4jD9AAJw5\
 UHiMOUAAnD9QeIw/QACcN1B4jDdAAJw/UHiMP0AAnDlQeIw5QACcP1B4jD9AAJw3UHiMN0AAnD9QeIw/\
 QACcOVB4jDlAAJw/UHiMP0AAnDdQeIw3QACcP1B4jD9AAJw5UHiMOUAAnD9QeIw/QACcNlB4jDZAAJw+\
 UHiMPkAAnDxQeIw8QACcPlB4jD5AAJw2UHiMNkAAnD5QeIw+QACcPFB4jDxAAJw+UHiMPkAAnDJQeIwy\
 QACcPFB4jDxAAJw5UHiMOUAAnDxQeIw8QACcMlB4jDJAAJw8UHiMPEAAnDlQeIw5QACcPFB4jDxAAJw3\
 UHiMN0AAnD5QeIw+QACcOlB4jDpAAJw+UHiMPkAAnDdQeIw3QACcPlB4jD5AAJw6UHiMOkAAnD5QeIw+\
 QACcMFB4jDBAAJw5UHiMOUAAnDZQeIw2QACcOVB4jDlAAJwwUHiMMEAAnDlQeIw5QACcNlB4jDZAAJw5\
 UHiMOUAAnC5QeIwuQACcN1B4jDdAAJwyUHiMMkAAnDdQeIw3QACcLlB4jC5AAJw3UHiMN0AAnDJQeIwy\
 QACcN1B4jDdAAJwwUHiMMEAAnDlQeIw5QACcNlB4jDZAAJw5UHiMOUAAnDBQeIwwQACcOVB4jDlAAJw2\
 UHiMNkAAnDlQeIw5QACcLlAAN1CHQIw3QAAuQACcNFAAOlCBcIw6QACcNlCBcIw2QACcN1CBcIw3QACc\
 OVCBcIw5QAA0QACcM1AAOlCBcIw6QACcPFB4jDxAAJw6UHiMOkAAnDlQgXCMOUAAnDdQgXCMN0AAM0AA\
 nDlQADJQgXCMMkAAOUCDYJwyUHiMMkAAnDJQeIwyQACcMlCBcIwyQINgnDJQeIwyQACcMlB4jDJAAJwy\
 UIFwjDJAgXCcOVAAPFCDYIw8QAA5QACcN1AAOlCDYIw6QAA3QACcNlAAOVCDYIw5QAA2QACcN1B4jDdA\
 AJw+UHiMPkAAnDpQeIw6QACcPlB4jD5AAJw3UHiMN0AAnD5QeIw+QACcOlB4jDpAAJw+UHiMPkAAnDdQ\
 eIw3QACcPlB4jD5AAJw6UHiMOkAAnD5QeIw+QACcN1B4jDdAAJw+UHiMPkAAnDpQeIw6QACcPlB4jD5A\
 AJwzUHiMM0AAnDxQeIw8QACcN1B4jDdAAJw8UHiMPEAAnDNQeIwzQACcPFB4jDxAAJw3UHiMN0AAnDxQ\
 eIw8QACcMFB4jDBAAJw6UHiMOkAAnDdQeIw3QACcOlB4jDpAAJwwUHiMMEAAnDpQeIw6QACcN1B4jDdA\
 AJw6UHiMOkAAnDVQeIw1QACcPFB4jDxAAJw5UHiMOUAAnDxQeIw8QACcNVB4jDVAAJw8UHiMPEAAnDlQ\
 eIw5QACcPFB4jDxAAJw1UHiMNUAAnD9QeIw/QACcPFB4jDxAAJw/UHiMP0AAnDVQeIw1QACcP1B4jD9A\
 AJw8UHiMPEAAnD9QeIw/QACcOlB4jDpAAJw+UHiMPkAAnDpQeIw6QACcPlB4jD5AAJw6UHiMOkAAnD5Q\
 eIw+QACcOlB4jDpAAJw+UHiMPkAAnDlQeIw5QACcPFB4jDxAAJw5UHiMOUAAnDxQeIw8QACcOVB4jDlA\
 AJw8UHiMPEAAnDlQeIw5QACcPFB4jDxAAJw3UHiMN0AAnDpQeIw6QACcN1B4jDdAAJw6UHiMOkAAnDdQ\
 eIw3QACcOlB4jDpAAJw3UHiMN0AAnDpQeIw6QACcNVB4jDVAAJw6UHiMOkAAnDVQeIw1QACcOlB4jDpA\
 AJw1UHiMNUAAnDpQeIw6QACcNVB4jDVAAJw6UHiMOkAAnDNQeIwzQACcN1B4jDdAAJwzUHiMM0AAnDdQ\
 eIw3QACcM1B4jDNAAJw3UHiMN0AAnDNQeIwzQACcN1B4jDdAAJwyUHiMMkAAnDVQeIw1QACcMlB4jDJA\
 AJw1UHiMNUAAnDJQeIwyQACcNVB4jDVAAJwyUHiMMkAAnDVQeIw1QACcOlAAMFCHQIwwQAA6QACcMFAA\
 OlCDYIw6QAAwQACcMVAAOlCDYIw6QAAxQACcMFAAOlCDYIw6QAAwQINgnDlQADVQeIw1QAA5QACcNVAA\
 OVB4jDlAADVAAJw5UAA1UHiMNUAAOUAAnDlQADVQeIw1QAA5QACcOVAANVB4jDVAADlAAJw1UAA5UHiM\
 OUAANUAAnDlQADVQeIw1QAA5QACcOVAANVB4jDVAADlAAJw6UAA1UHiMNUAAOkAAnDpQADVQeIw1QAA6\
 QACcOlAANVB4jDVAADpAAJw6UAA1UHiMNUAAOkAAnDpQADVQeIw1QAA6QACcNVAAOlB4jDpAADVAAJw6\
 UAA1UHiMNUAAOkAAnDVQADpQeIw6QAA1QACcOVAANVB4jDVAADlAAJw5UAA1UHiMNUAAOUAAnDlQADVQ\
 eIw1QAA5QACcOVAANVB4jDVAADlAAJw5UAA1UHiMNUAAOUAAnDVQADlQeIw5QAA1QACcOVAANVB4jDVA\
 ADlAAJw5UAA1UHiMNUAAOUAAnDpQADVQeIw1QAA6QACcOlAANVB4jDVAADpAAJw6UAA1UHiMNUAAOkAA\
 nDpQADVQeIw1QAA6QACcNVAAOlB4jDpAADVAAJw1UAA6UHiMOkAANUAAnDpQADVQeIw1QAA6QACcOlAA\
 NVB4jDVAADpAAJw5UAA1UIFwjDVAADlAgXCcKVCBcIwpQIkwnD5QgXCMPkCDYJw8UIFwjDxAAJw5UAA1\
 UIFwjDVAADlAh0CcN1CBcIw3QACcN1CBcIw3QACcNFAAOlCBcIw6QAA0QACcOlAANVB4jDVAADpAgXCc\
 PFB4jDxAAJw5UHiMOUCCaJwzUHiMM0CEWJwyUHiMMkB4nDdQgXCMN0AAnDBQgXCMMEAAnDVQgXCMNUAA\
 nC5QgXCMLkAAnDNQgXCMM0CBcJw1UAA5UIFwjDlAADVAgXCcPlAAOlCBcIw6QAA+QIVQnD5QgXCMPkCD\
 YJw8UIFwjDxAAJw5UAA1UIFwjDVAADlAh0CcN1CBcIw3QACcN1CBcIw3QACcNFAAOlCBcIw6QAA0QACc\
 OlAANVB4jDVAADpAgXCcPFB4jDxAAJw5UHiMOUCCaJwzUHiMM0CEWJwyUHiMMkB4nDdQgXCMN0AAnDBQ\
 gXCMMEAAnDVQgXCMNUAAnC5QgXCMLkAAnDNQgXCMM0CBcJw1UAA5UIFwjDlAADVAgXCcPlAAOlCBcIw6\
 QAA+QIFwnD9QADVQg2CMNUAAP0AAnD5QADpQgXCMOkAAPkCBcJw1UAA/UINgjD9AADVAAJw+UAA6UIFw\
 jDpAAD5AgXCcLlAANVB4jDVAAC5AAP8vAE1UcmsAAAXWAP8DBEJhc3MAvAd/AAo/gXacK2J4jCtAeJwu\
 YniMLkB4nCtieIwrQHicLmJ4jC5AeJwrYniMK0B4nC5ieIwuQHicK2J4jCtAeJwuYniMLkB4nCtieIwr\
 QHicLmJ4jC5AeJwrYniMK0B4nC5ieIwuQHicK2J4jCtAeJwtYniMLUB4nCtieIwrQHicLWJ4jC1AeJwr\
 YniMK0B4nC1ieIwtQHicK2J4jCtAeJwtYniMLUB4nCpieIwqQHicMGJ4jDBAeJwqYniMKkB4nDBieIww\
 QHicJmJ4jCZAeJwtYniMLUB4nCZieIwmQHicLWJ4jC1AeJwrYniMK0B4nC5ieIwuQHicK2J4jCtAeJwu\
 YniMLkB4nCRieIwkQACcLWJ4jC1AAJwqYniMKkAAnC1ieIwtQACcJGJ4jCRAAJwtYniMLUAAnCpieIwq\
 QACcLWJ4jC1AAJwiYniMIkAAnCtieIwrQACcJmJ4jCZAAJwrYniMK0AAnCJieIwiQACcK2J4jCtAAJwm\
 YniMJkAAnCtieIwrQACcJGJ4jCRAAJwtYniMLUAAnCpieIwqQACcLWJ4jC1AAJwkYniMJEAAnC1ieIwt\
 QACcKmJ4jCpAAJwtYniMLUAAnCJih0CMIkAAnChih0CMKEAAnCdih0CMJ0AAnCZigXCMJkCDYJwmYniM\
 JkAAnCZieIwmQACcJmKBcIwmQINgnCZieIwmQACcJmJ4jCZAAJwmYoFwjCZAgXCcLWKDYIwtQACcK2KD\
 YIwrQACcKmKDYIwqQACcK2J4jCtAeJwuYniMLkB4nCtieIwrQHicLmJ4jC5AeJwrYniMK0B4nC5ieIwu\
 QHicK2J4jCtAeJwuYniMLkB4nCdieIwnQHicK2J4jCtAeJwnYniMJ0B4nCtieIwrQHicJGJ4jCRAeJwr\
 YniMK0B4nCRieIwkQHicK2J4jCtAeJwpYniMKUB4nC1ieIwtQHicKWJ4jClAeJwtYniMLUB4nClieIwp\
 QHicMGJ4jDBAeJwpYniMKUB4nDBieIwwQHicLmJ4jC5AeJwuYniMLkB4nC5ieIwuQHicLmJ4jC5AeJwt\
 YniMLUB4nC1ieIwtQHicLWJ4jC1AeJwtYniMLUB4nCtieIwrQHicK2J4jCtAeJwrYniMK0B4nCtieIwr\
 QHicKWJ4jClAeJwpYniMKUB4nClieIwpQHicKWJ4jClAeJwnYniMJ0B4nCdieIwnQHicJ2J4jCdAeJwn\
 YniMJ0B4nCZieIwmQHicJmJ4jCZAeJwmYniMJkB4nCZieIwmQHicJGKHQIwkQACcJGKDYIwkQACcJWKD\
 YIwlQACcJGKDYIwkQINgnClieIwpQHicKWJ4jClAeJwpYniMKUB4nClieIwpQHicKWJ4jClAeJwpYniM\
 KUB4nClieIwpQHicKWJ4jClAeJwpYniMKUB4nClieIwpQHicKWJ4jClAeJwpYniMKUB4nClieIwpQHic\
 KWJ4jClAeJwpYniMKUB4nClieIwpQHicNWKBcIw1QIFwnCligXCMKUCJMJwyYoVQjDJAAJwwYoFwjDBA\
 AJwtYoFwjC1Ah0CcK2J4jCtAeJwrYoFwjCtAAJwoYoFwjChAAJwpYoVQjClAgXCcJ2KFUIwnQACcJmKB\
 cIwmQACcK2KBcIwrQACcJGKBcIwkQACcKWKBcIwpQACcImKBcIwiQACcJ2KBcIwnQIFwnCligXCMKUCB\
 cJwuYoFwjC5AhVCcMmKFUIwyQACcMGKBcIwwQACcLWKBcIwtQIdAnCtieIwrQHicK2KBcIwrQACcKGKB\
 cIwoQACcKWKFUIwpQIFwnCdihVCMJ0AAnCZigXCMJkAAnCtigXCMK0AAnCRigXCMJEAAnCligXCMKUAA\
 nCJigXCMIkAAnCdigXCMJ0CBcJwpYoFwjClAgXCcLmKBcIwuQIFwnClig2CMKUAAnC5ig2CMLkAAnCli\
 g2CMKUAAnC5igXCMLkCBcJwiYniMIkAA/y8ATVRyawAAAyYA/wMFQnJhc3MAzTwAvQdQAApKAO0AQAK9\
 AQACC38CQACBcJ06PAA3PAA+PIdAjT5AADdAADpAAJ03PAA6PAA+PIdAjT5AADpAADdAAJ03PAA6PAA+\
 PIdAjT5AADpAADdAAJ0/PAA8PAA3PIFwjTdAADxAAD9AAJ05PAA/PAA8PIFwjTxAAD9AADlAAJ03PAA8\
 PAA/PIFwjT9AADxAADdAAJ0/PAA8PAA5PIFwjTlAADxAAD9AAJ0/PAA3PAA8PIFwjTxAADdAAD9AAJ0/\
 PAA5PIFwjTlAAD9AAJ0/PAA3PIFwjTdAAD9AAJ05PAA/PIFwjT9AADlAAJ02PAA+PAA8PIdAjTxAAD5A\
 ADZAAJ08PAAyPAA5PIdAjTlAADJAADxAAJ06PAA3PAA+PIdAjT5AADdAADpAAJ0wPAA5PAA2PIdAjTZA\
 ADlAADBAAJ0yPAA6PAA3PIdAjTdAADpAADJAAJ02PAA5PAAwPIdAjTBAADlAADZAAJ0uPAA3PIdAjTdA\
 AC5AAJ00PIdAjTRAAJ0zPIdAjTNAAJ0yPIVQjTJAAJ0yPHiNMkAAnTI8eI0yQACdMjyBcI0yQINgnTI8\
 eI0yQACdMjx4jTJAAJ0yPIFwjTJAg2CdPzx4jT9AAJ0+PHiNPkAAnT48gXCNPkAAnT88eI0/QACdPjx4\
 jT5AAJ0+PHiNPkB4nT88eI0/QACdPjx4jT5AAJ0+PABGPABDPIdAjUNAAEZAAD5AAJ06PAA+PABDPIdA\
 jUNAAD5AADpAAJ03PAA8PAA/PIdAjT9AADxAADdAAJ06PAAwPAA3PIdAjTdAADBAADpAAJ01PAA5PAA8\
 PIdAjTxAADlAADVAAJ01PAA/PAA8PIdAjTxAAD9AADVAAJ06PIdAjTpAAJ05PAA8PIdAjTxAADlAAJ03\
 PAA6PIdAjTpAADdAAJ06PAA1PIdAjTVAADpAAJ0zPAA3PIdAjTdAADNAAJ0yPAA1PIdAjTVAADJAAJ0w\
 PAA3PIdAjTdAADBAAJ03PAAwPINgjTBAADdAAJ0xPAA3PINgjTdAADFAAJ03PAAwPINgjTBAADdAAP8v\
 AE1UcmsAAAM9AP8DDEVuZ2xpc2ggSG9ybgDORQC+B1AACjYA7gBAAr4BAAILfwJAANtwnjpkgTSOOkA8\
 njZkgTSONkA8njdkgTSON0A8njlkgTSOOUA8njpkgTSOOkA8njxkWo48QB6eOmRajjpAHp45ZIE0jjlA\
 PJ43ZIE0jjdAPJ45ZIE0jjlAhByePmRajj5AHp4+ZFqOPkAenj5kWo4+QIR2nj5kWo4+QB6ePmRajj5A\
 Hp4+ZFqOPkCDBp48ZIE0jjxAgiyeOmSBNI46QIIsnjlkgTSOOUCBn2yeTWSFUI5NQACeTGSBcI5MQACe\
 S2SFUI5LQACeTWQ8jk1AAJ5LZDyOS0AAnkpkPI5KQACeSGQ8jkhAAJ5GZIFwjkZAAJ5GZHiORkB4nkZk\
 gXCORkAAnkhkgXCOSEAAnkpkgmiOSkAAnktkeI5LQACeSGSBcI5IQIFwnk9khVCOT0AAnk5kgXCOTkAA\
 nk1kgXCOTUAAnkxkgXCOTEAAnktkgXCOS0AAnkpkgXCOSkAAnkhkgXCOSEAAnktkg2COS0AAnkVkgXCO\
 RUAAnkZkeI5GQACeRWR4jkVAAJ5IZHiOSEAAnkZkeI5GQACeSmR4jkpAAJ5IZHiOSEAAnktkeI5LQACe\
 SmR4jkpAAJ5NZIVQjk1AAJ5MZIFwjkxAAJ5LZIVQjktAAJ5NZDyOTUAAnktkPI5LQACeSmQ8jkpAAJ5I\
 ZDyOSEAAnkZkgXCORkAAnkZkeI5GQHieRmSBcI5GQACeSGSBcI5IQACeSmSCaI5KQACeS2R4jktAAJ5I\
 ZIFwjkhAgXCeT2SFUI5PQACeTmSBcI5OQACeTWSBcI5NQACeTGSBcI5MQACeS2SBcI5LQACeSmSBcI5K\
 QACeSGSBcI5IQACeS2SDYI5LQACeRWSBcI5FQACeRmR4jkZAAJ5KZDyOSkA8nk1kPI5NQDyeUmQ8jlJA\
 PJ5RZHiOUUAAnk1kPI5NQDyeVGQ8jlRAPJ5RZDyOUUA8nlJkeI5SQACeTWQ8jk1APJ5WZDyOVkA8nlJk\
 PI5SQDyeUWR4jlFAAJ5NZDyOTUA8nldkPI5XQDyeVGQ8jlRAPJ5SZIFwjlJAgXCeRmR4jkZAAP8vAA==';

var select=document.getElementById('selectmidi');
try{
 var list=Jazz.MidiOutList();
 for(var i in list){
  select[i]=new Option(list[i],list[i],i==0,i==0);
 }
 Jazz.MidiOutOpen(0);
 var midifile=new JZZ_.MidiFile(JZZ_.MidiFile.fromBase64(mozart));
 player=midifile.player();
 player.onEvent=onPlayerEvent;
 document.getElementById('play').disabled=false;
 document.getElementById('pause').disabled=true;
 document.getElementById('stop').disabled=true;
 document.getElementById('selectmidi').disabled=false;
}
catch(err){}

--></script>

</body>
</html>

See also